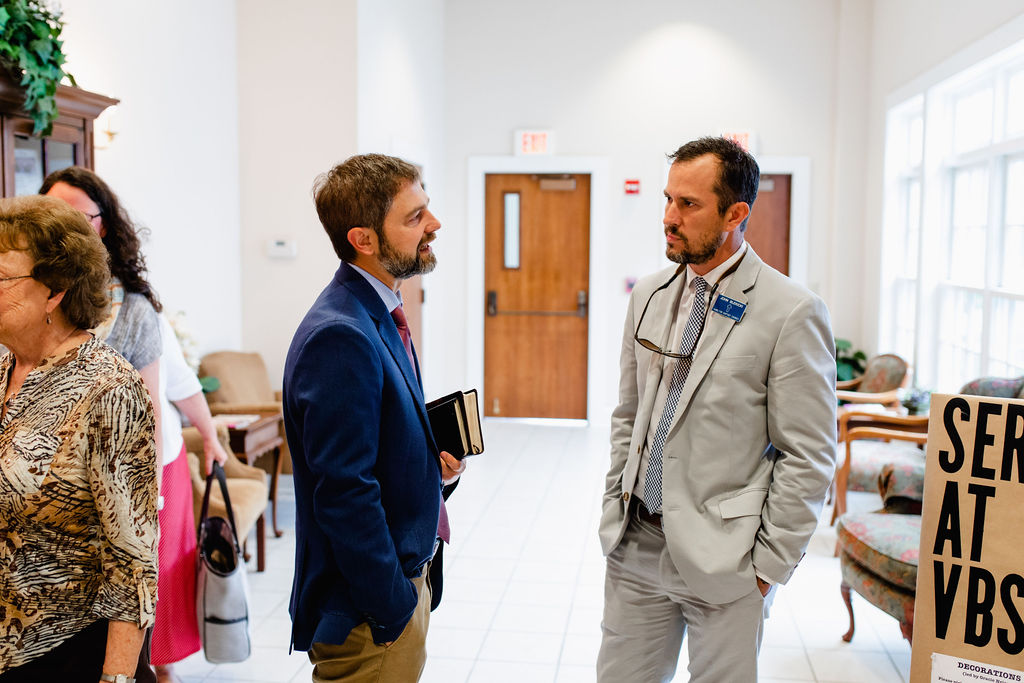 Hamilton Baptist Church Covenant[1]
We, who by divine grace believe in the Lord Jesus Christ[2] and surrender our lives to Him,[3] and have been baptized as Christians in the name of the Father and of the Son and of the Holy Spirit,[4] covenant with one another as one body in Christ.[5]
Together we will draw near to God in worship.[6] We will delight in the glory of God,[7] depend on the presence of God,[8] grow in the knowledge of God,[9] and submit to the Word of God as the all-sufficient authority in our lives and in His church.[10]
Together we will hold fast to the hope we profess.[11] We will strive for the advancement of this church in knowledge and holiness,[12] sustain its worship of Christ[13] participate in its ordinances,[14] and adhere to its doctrines.[15] We will maintain personal devotions,[16] educate our children in our faith,[17] and seek the salvation of the lost.[18]
Together we will spur one another on to love and good deeds.[19] We will meet with one another consistently,[20] pray for one another regularly,[21] and serve one another selflessly.[22] We will share each other's joys, bear each other's burdens[23] and aid each other in sickness and distress.[24] We will edify one another with our speech[25] and encourage one another with our example.[26] We will be slow to take offense and ready to seek reconciliation.[27] We will humbly and gently confront one another, willingly receive correction,[28] and eagerly work for the unity of the Spirit in the bond of peace.[29] We will give cheerfully and generously to the support of the church, the relief of the poor, and the spread of the Gospel through all nations.[30]
We will, if we are called by God to move from this place, as soon as possible unite with another church where we can carry out the principles of God's Word.[31] When we struggle to keep this covenant, we will rejoice in the grace of Jesus Christ that covers all our sin.[32]
May the grace of the Lord Jesus Christ, the love of God, and the fellowship of the Holy Spirit be with us all. Amen.
[1] In making this covenant we realize that none of us will fulfill it to perfection. Nevertheless, this covenant expresses our understanding of how God calls the church to act; therefore we will strive, through the enabling of the Holy Spirit, to live out these promises.
[2] Jn 6:37-40; Ac. 2:38; 16:31; 20:21; Rom. 10:9-10
[3] Lk. 14:25-33
[4] Mt. 28:19; Ac. 2:41; Rom. 6:1-4
[5] 1 Cor. 12:12-27; Eph. 4:4-6; Col. 3:14-15
[6] Heb. 10:22; Rom 12:1-2
[7] Ps. 16:11; 37:4; 63:1-11
[8] Ex. 33:14-18; Mt. 28:20; Jn. 15:5; Jas. 4:8
[9] Php. 3:10; Col. 1:9-12; 2 Pet. 3:17-18
[10] Ps. 19:7-11; 119:105-112; 2 Tim. 3:14-4:5
[11] Heb. 10:23
[12] Col. 3:16-17; 1 Pet. 1:14-16
[13] Ac. 2:42; 46; 1 Cor. 14:20-40
[14] Mt. 28:18-20; Lk. 22:14-20; 1 Cor. 11:23-29; Believers' Baptism and the Lord's Supper
[15] 1 Cor. 11:2; 2 Thes. 2:14-15; Baptist Faith and Message 2000
[16] Ps. 1:1-6
[17] Deut. 6:6-9; Ps. 78:1-7; Prov. 22:6; Eph. 6:4
[18] Mt. 28:18-20; Jn. 1:40-42
[19] Heb. 10:24
[20] Heb. 10:25
[21] Php. 1:3-6; Jas. 5:16
[22] Rom. 12:9-13
[23] 1 Cor. 12:26; 2 Cor. 2:3; Gal. 6:2
[24] Rom. 12:13; Gal. 6:1-3
[25] Eph. 4:29-32
[26] 1 Cor. 10:31-11:1; Php. 4:9
[27] Mt. 5:23-24; 18:21-35; Jas. 5:19-20; 1 Pet. 4:8
[28] Mt. 18:15-20; 1 Cor. 5:1-13; Gal. 6:1
[29] Eph. 4:1-3
[30] 2 Cor. 8:9
[31] 1 Cor. 12:18
[32] Eph. 2:5-8; Heb. 8:12